If you were able to get an interview, congrats! You've gotten to a very important part of the recruiting process, and this means that your resume was interesting enough for them to want to learn more about you.
It's no secret that we ARE going to face difficult questions during an interview, or maybe they're not necessarily difficult, but rather they take us by surprise, and our nerves can betray us. For this reason, it's imperative to arrive with an open mind, and willing to answer with honesty, calmness, and caution. Even though we can never be sure of what they're going to ask us, because every company and job description is different, you can at least practice with some of the most common questions that are usually asked during an interview. This is what we'll be discussing today.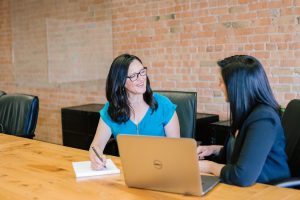 "Tell me about yourself."
The most dreaded question… It's sometimes harder to talk about ourselves than about others, mainly because we don't know where to begin. "Tell me about yourself" can mean so many things, and it's such a broad statement, that we may not even know what aspect of our lives is most important to recruiters. In this case, they don't care about how much you like the beach or going to the movies. They want to hear about your professional trajectory. Tell them about the previous experiences, achievements, abilities, and certifications that make you the professional you are today. Be sure to mention that differentiating factor that makes you stand out from other candidates.
"What do you know about us?"
It's practically impossible to know every single detail of a company, especially if it's a company that's been around for quite some time. But it is possible, and necessary, to do some research of your own in order to learn the basics. Make sure you understand what it is they do, their mission, vision, values, and maybe even who some of their employees are. You can find this information on their LinkedIn page, social media platforms, or website.
"Why do you want to work with us?"
The reality sometimes is that you just need the job, the money, or you simply want a change of environment, but we're not going to tell them exactly that. Try to tell them about your plans of growing professionally, and how this could be the perfect next step for you. Find out about the company's recent achievements, so that you can have something additional to talk about.
"Why should we hire you?"
Your initial reaction might be to say: "Well because I'm responsible, a good person, and always on time". Let's try to avoid this response, because this should be a given at any job, that the person hired is a good person who is responsible and always on time. Instead, focus on telling them about your experiences and abilities that make you the ideal candidate who will fit perfectly with their company culture. You can also talk about how you can add value to their team, and how they will benefit from having you as a member. Look them up online and check to see if they've had any recent inconveniences or troubles, something that you might be able to help them with.
"Do you have any questions for us?"
Yes! The answer should always be yes! Usually, this is the last question in an interview, and its also your last chance to make an impression and show that you're interested in being a part of their company. By asking relevant questions, you can demonstrate that you've been paying attention throughout the whole interview, and that you actually analyzed and processed the information they gave you. Some suggested questions can be: "What does a typical day in the company look like?" or "What would be the next step in the recruiting process?".
Recommendations:
Whenever you're going to talk about yourself, think of this as the perfect opportunity to sell yourself, something similar to an elevator pitch. If necessary, make sure to write it down first and then practice it, because it could come in handy at a networking event later on.
Connect with the company you're applying to via social media. This way, you'll feel more familiarized beforehand, and if you happen to know anyone who works there, it's also a good idea to ask them for more information on the company.
Enjoy the process and treat the interview like a conversation, so you'll seem more comfortable and confident with your words.