If, for a moment, you thought that in this blog you are going to find information about what brand of clothing will make you look more professional, or what is the secret formula to carry out a perfect job interview, we are sorry to tell you that you will not find it here. The reality is that there is no perfect formula, nor is there a single way that works for everyone. A professional image goes far beyond clothing (although it is an essential part), but along with it, there are other crucial elements that will help you look like a professional, ready to achieve the next goal in your career. Here are 6 key elements that you should take into account when presenting yourself at a job interview: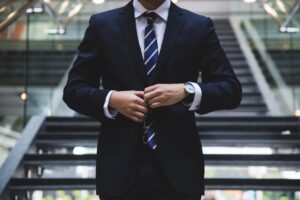 1.Dress for success
The type of attire for a job interview will depend on the company you interview with, and the position, but you should always look and present yourself as a professional, no matter what industry it is. To create a good first impression, the outfit you should choose should be in accordance with the dress code or culture of a company. For men, this could be a suit jacket and pants with a shirt and tie, if it's a more formal setting, or perhaps a blazer with a button-down shirt. For women, it could be a blazer with office pants, a blouse and dress pants, or a dress that is not too above the knee. Footwear that is closed is always suggested. There is no specific way to wear the hair, but we always suggest that it be a hairstyle that allows you to see the face, to have a more effective "eye contact" with the interviewer. Caps, glasses, or excess clothing should not be worn. Important: be sure to project impeccable grooming.
2. Have a positive, humble, and confident attitude.
During an interview, you should remain confident in your talents, experiences, and knowledge, but not brag. It is always important that no matter how many skills you have, you remain humble. Be receptive and alert at all times, so that you can carry out an effective conversation with your interviewers, and that it is not just a monologue of either party. You must know how to recognize your strengths, as well as your weaknesses, and be honest in general. The essential thing here, and what they want to see, is that you can accept that you are not perfect, but that you tell them about how you are working to improve in these aspects. What they do not know now, they will find out later. So, in this case, it is ideal to avoid any kind of lie. Be yourself and share stories that they can relate to, you may have an anecdote about how you reached a goal, or how you are growing professionally. Above all, keep a positive attitude, because this is perceived and is contagious.
3. Arrive 10-15 minutes early
As they say: "Early bird gets the worm." The same applies to a working environment, because if you are late for a job interview, this being the first time you will meet your future supervisors, what can they expect from you then if you are hired? You are already letting them know, from day one, that you have no regard for their time. Time is money, and nobody likes to lose money. Therefore, it is important to arrive at least 10-15 before the interview, so that you show responsibility, commitment, and enthusiasm. If you don't arrive early, there are many others who will. So why should they settle for someone who doesn't take others into consideration? It isn't necessary that you get there an hour before, as this is already a bit exaggerated, but you could leave your house for about 45 minutes due to any unforeseen situation that may arise (example: you get a flat tire on the way, or you forget a document and have to go back to look for it, among other things). Everything will depend on how long it takes you to get to the interview site, taking into account some additional factors such as traffic, time, parking situation, etc.
4. Phone: off limits!
Although it seems impossible, yes, you can live without it for an hour. During an interview, your full attention should be on the questions they are asking you, in other words, you need to be in the present with the interviewers. Pu the phone in your bag before starting, and set it on mute. Nothing looks less professional than using your phone while being interviewed, or worse yet, when you interrupt your interviewers to answer call.
5. Prepare and study
Show them that you know their company, and that you've done your research. This denotes interest in wanting to know more about them. It does not mean that you should know everything about them, but rather that you demonstrate that you have a basic knowledge of what they do, and what their mission and values ​​are, among other information that characterizes the company. This is an important part of proving that you are a professional, as they will want to meet someone who really has a passion for the work they will do.
6. Avoid colloquial vocabulary
A job interview is not a conversation with your best friend, where you can express your ideas in a colloquial way. As natural as you want to project yourself, be cautious of the situation, and remember that how you express yourself will be the image that they will take of you. You only get one chance to impress, and be remembered as a professional.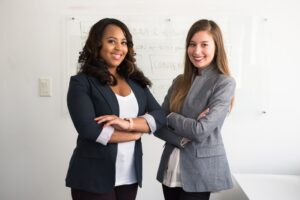 Recommendations

• Clothing, like food, has an expiration date. So it is important that from time to time you check the texture or condition of the clothing, so that it does not look worn or torn. It is always a good idea to invest in at least one set of professional clothing, so that when you are presented with an interview, you are not caught off guard. Remember that you do not need to wear well-known brands to project an excellent professional image.

• If the interview is virtual, make sure you have or download the program they will use and, above all, check that there are no pending updates. This way, you avoid delays caused by situations like these. On the contrary, if the interview is in person, evaluate through the different transportation/traffic applications (Google Maps, Waze …) how long it will take you to go from your home to the place of the interview.

• Do not forget that it is not only verbal language that says a lot about you, but also body language and facial expressions. To avoid expressing unwanted gestures, it is important to be aware of the situation and not to take anything personal. The interview is an exchange of information in which a recruiter and a candidate are getting to know each other, it is not a space to create friends.

Remember to send us your resume to jobs@prpdg.org, because at any time we could be contacting you, if there is an opportunity available for which you qualify. In addition, you will have the opportunity to apply everything that we have discussed in this blog. Keep learning with us!