Women + Chemistry: Name a better duo!
We loved having the opportunity to talk to Victoria Martínez González, secretary of the Governing Board of Colegio de Químicos de Puerto Rico, about the struggles that women face in the scientific community, and how they can work through them. This Wednesday was all about #GirlPower!
Here are some of the most important topics that were discussed.
Q. What is the typical day-to-day of a chemist?
A. "That's always going to depend on where the person works. I've personally been working in this industry for over 30 years and, for example, I've worked as an analyst, manager, and specialist. Chemists need to understand the importance of our job and acknowledge that we have an impact on many people. We should wake up every day with this in mind, that patients will receive their medicine thanks to our product evaluation and certification. A chemist makes sure to be well trained, and to have/understand the testing equipment and materials needed for testing. We [chemists] must document every step of the way, and follow GMP (Good Manufacturing Practices) regulations. There's many different branches in this field".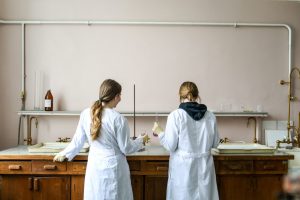 Q. What are those key factors that have led you to from one experience to another?
A. "It hasn't been easy, being a woman isn't easy, because we have to work a little harder in order to be seen. Some of the things that have helped me are that I'm a tenacious woman, that I work with a lot of passion, and that my attitude has always revolved around rooting for myself. I've had to fight against discrimination for being a woman, for being black, because I've been judged for both. And how did I respond? I didn't care what anyone said to me, because I knew I was capable of doing the job. Where I worked, there were also wonderful people that believed in me and saw my potential".
Q. In an industry such as this one, that's dominated by the opposite sex, what do women have to do to stand out?
A. "You have to keep striving to be better and finding ways to improve, to give ideas, in order to not fall behind. This way, you'll show that you go the extra mile and do more than they ask you to, and you'll be able to shine. That's the key to be noticed, because there's always room for improvement".
Q. Could you give any tips to the women or girls out there that are interested in pursuing a career in Chemistry or Science?
A. "Don't be scared, it's not how people paint it to be. Many times, they'll try to scare you by saying that you won't be able to pass the courses, because they're difficult. If you enjoy it, all you need is a good base, and with that, everything will be a bit easier. Don't limit yourselves, because Chemistry has a lot to offer, it's practically the branch that explains life itself".
Q. Based on your experience, which qualities or knowledge should a chemist have in today's world?
A. "Emotional intelligence is the first thing, because it's the only way you'll be able to manage de working environment when it comes to being surrounded by different people. Everyone works in a different way, some like to hear music, while others prefer to work in silence. You also need to know how the scientific method works (to perfection!), have the capacity to observe, pay attention to detail, know how to follow instructions and, of course, have the knowledge and complete your studies in Chemistry".
Want to see more? Check out our Facebook live: