If you are looking for a job, there is a lesser known but just as effective way by which you can get a job interview: referral programs. If you have a relative or friend who works somewhere that interests you, don't be afraid to ask them if they have referral programs at their company, the answer is most likely yes. These programs consist of the same clients or employees of a company referring candidates for positions, while receiving an incentive in return.
PRPDG Glossary:
Referral program – to promote in a controlled and systematic way the recommendations of your clients and/or employees amongst their own community of friends, family, companies or contacts, through a powerful incentive that motivates them to recommend your brand.
Determine, through these possible situations, if a referral program is right for you or not:
You are in the midst of a difficult situation, as you have looked for a job on different online platforms, but none of them have given you results yet. You want to try a different strategy, so you ask your friend if they happen to have open positions in his company and he says yes, that he will share the link for you to apply and be a part of his referrals.

Ideal – This is a good move because that way you do not close any doors just because a strategy or a search didn't work out. In this case, your friend will be the link you need to contact the company.

You are looking to generate an additional income this month and you remember that your company has a referral program. You get excited and share the available positions with your friends and family.

Ideal – Being a part of the referral program is a great way to generate additional money, while also helping a friend or a family member get a job.

You tell everyone you know that you are looking for a job in any area and send them your resume. A friend knows of an employment opportunity and refers you in order to take advantage of the incentive that he will receive for the referral. You go to the interview, they make you an offer, but in the end, you do not accept it because it is not what you wanted.

Not ideal – Before you start doing anything, you must have defined what you are looking for and what interests you so you can prepare your search strategies. In addition to this, you must update your resume. Don't expect your friends to get you a job just for the sake of it, without your being prepared, as he/she will look bad in front of his/her supervisor too. Discuss with your friend the opportunities available in the company and how you can become an attractive candidate for them. This way, she/he will be able to give you her/his recommendations so that you can improve and develop a strategy, and maybe in the future you can be referred.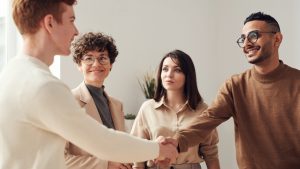 Recommendations:
• Have your resume updated. This is your presentation letter, and it is the first thing a company will see of you. If your resume is unappealing and badly written, it may decrease your chances of being called for an interview. If you don't know how to do it on your own, you can seek help from a professional.
• Don't be afraid to ask your friends, family or acquaintances if their companies have referral programs. You can make a list of people you know who have positions in companies that interest you, and then share your resume in case any opportunity arises for which you qualify. It is essential that you keep your LinkedIN profile updated, since you can contact professionals through the platform and introduce yourself. Another reason is because LinkedIN serves as evidence for the referral your friend makes to her supervisor. It is all a matter of gradually creating your network of professionals, taking advantage of the tools you have at your fingertips.
• If job opportunities are available in your workplace, and they have a referral program and you want to help your country move the workforce, you can be a promoter of the company's positions for the benefit of your closest friends and family.