It's likely that during your academic or professional life, you've considered joining an association, whether it be because they sent you an invitation or because you've heard of them and were interested. Maybe you asked yourself this: How will I benefit from this? Is it really worth it? No matter what your reasons are to learn more about this topic, we'll be sharing in this blog some of the benefits that association members receive.
PRPDG Glossary:
Association- The coming together of individuals to reach a determined goal.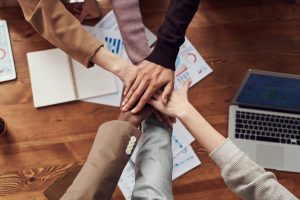 Next, you will read some reasons to consider joining any type of professional association:
Space for networking– By joining an association, you will be able to attend different meetings and events that give you the opportunity to connect with other members of the same community. This way, you can find a mentor, potential clients, or even people who could help you develop and advance your professional career.
Certifications and workshops– Another advantage of your membership is that you can receive a certification for completing workshops or courses on specific subjects, abilities, or programs. It's very common for associations to give their members access to trainings on topics related to their mission. This is a great benefit because certificates can be added to your resume.
Competitive advantage– This experience can give you competitive advantage over other candidates applying for the same job. Why? Because recruiters will see that you've been exposed to exclusive trends and knowledge in the industry you belong to. You will prove that you're ahead of the game and up to date with the latest information.
Special discounts- Association members can also receive special discounts on workshops, seminars, programs, certifications, events, products, merchandise, and services. You can also even be the first one receiving access to a new product or course.
Job opportunities– One of the most important reasons to join a professional association might just be that new opportunities can arise from this experience. Most associations are in close contact with other companies, and they often share job postings with their members. They could also introduce you or connect you with industry recruiters, or even help you prepare your resume.
Recommendations:
If you're worried about not having any professional experience yet, and you don't know where to start, joining an association can help give you that initial experience you're looking for. It will also give you something to talk about at a job interview. You can ask the association's council or directive how you can contribute to their efforts, as well as how you can run for any leadership position (if you've been there long enough).
Being part of an association is an excellent way of giving back to your community. If you're an expert on any subject, you can share that knowledge with others through an experience such as this one. Not everything can be a "what's in it for me" type of attitude, instead, focus on helping others achieve their goals, at least occasionally.
Look for mentorship during your time there, in order to move forward in the right direction. Through networking, try to look for someone who's an expert in the industry you're in and approach them. Who knows what great opportunity will come out of this conversation?